Why Another Blog?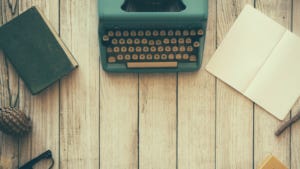 Welcome to my blog. This is the first of what I hope will be many articles, so it seems fitting that I write this as a first article. There are many blogs out there.  You already know that, though. You read blogs, otherwise, you probably wouldn't be reading this.
This does, however, beg the question, "why another blog?"
I hope to answer this question over time: week by week, article by article. However, the truth is, I need a hobby. I'm not athletic, so blogging seems like a nice fit.
On a serious note, while there are many blogs out there, I only have time to read a few of them. And out of the few blogs that I read, I only read a few articles out of each blog weekly. I personally find most blogs to be noise- much like my son smashing a wooden spoon on a metal pizza dish. It's headache worthy.
The point is, not all articles are worth your time and this blog will most certainly not be the exception to that. You must use your time and mind wisely as you decide what to read and some of the articles I write on here won't interest you one bit. I must admit though, this blog isn't all about you. You see, I want to continue my own discipline of writing and learning. I learn through writing and I feel close to God when I write. Therefore, I will write the type of articles I want to read that stir my affections for Christ and I pray you'll benefit too.
Articles you can expect to read include;
• articles that make much of our Triune God. • articles grounded in a particular confession. • articles that are devotional and experiential. • articles that demonstrate sustained thinking on a given subject. • articles aimed to strengthen and encourage the local church. • articles that demonstrate how the gospel touches all areas of life.
With that ambitious goal set, I want to confess that I'll fall short, but as I write, I hope to grow, and I want to invite you to grow along with me. I have written many articles over the last 10 years- some worth reading, some not.
There are articles I've written that I disagree with now. There are some that I remain committed to, though.
Writing is a vulnerable thing to do. You open yourself up to criticism and what you say is etched in the permanent digital ink of the internet. I do think the reward outweighs the risk, however. So, here I am inviting you to embark on a journey with me and I pray it's one that encourages you as you read as much as it encourages me to write.
Now allow me to give you a brief tour of the place. This website exists primarily as a blog, so mostly you will find my thoughts (not rants) on any given subject. However, I am including what I am calling a bookstore. I am asked almost on a daily basis for book recommendations. This is a carefully curated list of books that I recommend on various subjects. I will continue to modify this list as time goes on, but I don't want it to become so exhaustive it paralyzes you from purchasing and reading. Every single book on this bookstore page is theologically sound and trustworthy. I pray it becomes a valuable resource for you.
Now, to kick things off, over the next couple of weeks I will spend time blogging through the Ten Commandments in an effort to demonstrate their devotional quality and that they are still binding on believers today. I pray this first round of articles is beneficial to you. Happy reading.
P.S. I'd love for you to subscribe to this blog. If you do, you'll get each article I write delivered to your inbox the moment I publish it. Sign up in the box to the right of this article.