Weekly Roundup: August 10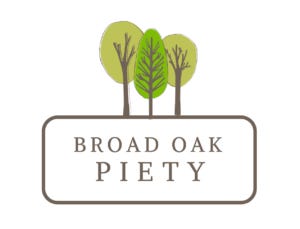 This is the first of what I hope to be many weekly roundups on the Broad Oak Piety site. What I aim to do in this weekly roundup is re-cap what's been posted on the site for the week, but also introduce you to some articles that I've found helpful and important that are on other sites. From time to time I may highlight blogs, videos, books, or anything I think may be encouraging to you. I hope you enjoy. Thank you for subscribing and reading.
Servants of Grace
I have the honor of writing for an organization called Servants of Grace. This week, the Executive Director, Dave Jenkins published the magazine, Theology For Life. It is an excellent issue and I plan on post links to it over the next couple of weeks. A few months ago, Dave asked me to write on what it's like being a young dad in ministry. You can find that article here:
http://servantsofgrace.org/advice-for-young-dads-in-ministry/
About Broad Oak Piety
This week I introduced you to my new site and explained a bit behind the name. You can find that post here: https://broadoakpiety.org/why-broadoak-piety/
Why Another Blog?
This is an article I posted earlier in the week to explain why I decided to start a blog: https://broadoakpiety.org/2018/08/07/why-another-blog/
The Law of God: Two Tables
Here I began our series on The Ten Commandments discussing how the commandments are divided into two tables: https://broadoakpiety.org/2018/08/08/the-law-of-god-two-tables/
6 Reasons the Ten Commandments Are Binding on Believers Today
I concluded this week's round of articles on The Ten Commandments by making a case for why they are still binding on believers: https://broadoakpiety.org/2018/08/09/6-reasons-the-ten-commandments-are-binding-on-believers-today/