Two Types of Adultery: Spiritual Adultery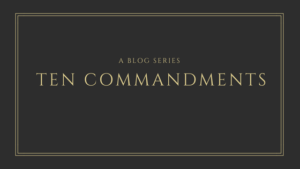 14"You shall not commit adultery." (Exodus 20:14 ESV)
Today is the final article (see my last article) on this particular commandment and as promised, I'd like to address the root cause of sexual adultery- spiritual adultery. To illustrate, hear God's message to Hosea, the prophet:
"When the LORD first spoke to Hosea, he said this to him: Go and marry a woman of promiscuity, and have children of promiscuity, for the land is committing blatant acts of promiscuity by abandoning the LORD." (Hosea 1:2 CSB)
Allow me to show you the parallel between Hosea and God and how it relates to spiritual adultery:
Hosea is wedded to Gomer (1:3).

God is wedded to His covenant people, the Church.

Hosea's bride is unfaithful to him. She is promiscuous.

God's covenant people are unfaithful to him.

God requires Hosea to remain faithful.
Hosea's earthly faithfulness to Gomer points us toward God's faithfulness to his adulterous people.
"Then the LORD said to me [Hosea], "Go again; show love to a woman [Gomer] who is loved by another man and is an adulteress, just as the LORD loves the Israelites [the Church] though they turn to other gods and love raisin cakes. [in other words, love the worship of other gods]" (Hosea 3:1 CSB)
This is a historical account and it is important for us to recognize Hosea and Gomer as historical people. However, God ordains Hosea's marriage and the circumstances surrounding it to illustrate some very important spiritual things for us.
Our biggest sin is spiritual adultery (we love raisin cakes).
Spiritual adultery is the root cause of every sin.
[bctt tweet="Spiritual adultery is the root cause of every sin." username="joey_tomlinson"]
The last two days we've discussed sexual adultery. For those of you trapped in the web of sexual adultery, your root issue is that you are a spiritual adulterer. If you do not repent of your spiritual adultery, you will stand before God on the great Day of Judgment, unwedded.
Paul says in Romans 1:21-23,
"For although they knew God, they did not honor him as God or give thanks to him, but they became futile in their thinking, and their foolish hearts were darkened. Claiming to be wise, they became fools, and exchanged the glory of the immortal God for images resembling mortal man and birds and animals and creeping things." (ESV)
This is the condition of every single person. No one is off the hook, here. Every sin we commit is only a symptom of the greater issue- unbelief. Every single person ever created knows that God exists and that we were created to be in relationship with Him. It is our own foolishness and our own darkened hearts that cause us to commit spiritual adultery.
God is faithful to His adulterous people.
Thankfully, God does not leave us in our spiritual adultery. He is faithful. He is kind. The book of Hosea captures the unending faithfulness and kindness of God:
"I will heal their apostasy; I will freely love them, for my anger will have turned from him. I will be like the dew to Israel; he will blossom like the lily and take root like the cedars of Lebanon. His new branches will spread, and his splendor will be like the olive tree, his fragrance, like the forest of Lebanon." (Hosea 14:4-6 CSB)
God fulfills this prophecy and demonstrates his faithfulness and love for us by sending Christ to take the consequence of our spiritual adultery upon Himself (Romans 5:8). God uses Christ's sacrifice to turn his anger (4) away from us. God uses the finished work of Christ applied by the Holy Spirit to be like sweet dew to us (5).
We can now respond to God's faithfulness and kindness with fidelity.
Because God reconciled us to Himself even in the midst of our adultery (by the power of the Holy Spirit) we can respond in spiritual fidelity to Him. We have the capacity to be spiritually faithful to the Lord and there is an expectation that we will be faithful. It is God's kindness that leads us to repent (Romans 2:4). And certainly, we see Hosea's prophecy about how God's people respond to God's faithfulness in Hosea 14:7:
"The people will return and live beneath his shade. They will grow grain and blossom like the vine. His renown will be like the wine of Lebanon." (CSB)
Friend, do you realize that you are a spiritual adulterer? Have you forsaken your adultery? If not, what are you waiting for? Respond to the faithfulness of our God.