Two Types of Adultery: Sexual Adultery Pt 1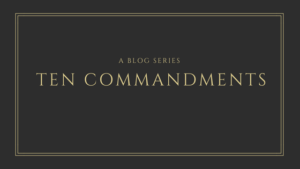 14"You shall not commit adultery." (Exodus 20:14 ESV)
24 Therefore a man shall leave his father and his mother and hold fast to his wife, and they shall become one flesh. (Genesis 2:24 ESV)
31 "Therefore a man shall leave his father and mother and hold fast to his wife, and the two shall become one flesh." (Ephesians 5:1 ESV)
27 "You have heard that it was said, 'You shall not commit adultery.' 28 But I say to you that everyone who looks at a woman with lustful intent has already committed adultery with her in his heart. 29 If your right eye causes you to sin, tear it out and throw it away. For it is better that you lose one of your members than that your whole body be thrown into hell. 30 And if your right hand causes you to sin, cut it off and throw it away. For it is better that you lose one of your members than that your whole body go into hell." (Matthew 5:27-30 ESV)
9 "Or do you not know that the unrighteous will not inherit the kingdom of God? Do not be deceived: neither the sexually immoral, nor idolaters, nor adulterers, nor men who practice homosexuality, 10 nor thieves, nor the greedy, nor drunkards, nor revilers, nor swindlers will inherit the kingdom of God. 11 And such were some of you. But you were washed, you were sanctified, you were justified in the name of the Lord Jesus Christ and by the Spirit of our God." (1 Corinthians 6:9-11 ESV)
These are important passages. Not only do they define for us the proper application of sex and marriage, but they demonstrate for us the root cause of our rebellion and the consequences for our rebellion in this area of sex and sexuality.
It is no secret that we live in a society that is obsessed with sex. Actually, we live in a culture that defines personhood by sexual identity. I can't watch a T.V. program with commercials without having sex marketed to me in some way. It is such an epidemic in mainstream media, that my wife and I strictly limit what we watch and listen to.
Starting today, we are going to spend a few articles exploring this important, relevant commandment from God. Today, I want to focus on the more obvious meaning of this commandment and that is sexual adultery. In the next article, I will focus on some tangible ways to guard your eyes and ears so that you may not be enslaved by this sin. And in the final article, I want to address the root cause of our sexual adultery, which is spiritual adultery.
Sexual adultery has been defined as "voluntary sexual intercourse between a married person and a person who is not his or her spouse."[1]
However, the Scripture defines sexual adultery as looking with lustful intent and any sexual heart posture, motive, or encounter outside of the marital covenant between one man and one woman for life. Anything outside the scope of this is rebellion against God and a distortion of what our one flesh union is supposed to represent; Christ and His bride, the church (Ephesians 5:22-33).
[bctt tweet="As a church, if we want our culture to repent of sexual perversions and honor the sanctity of marriage, we must lead through our own repentance" username="joey_tomlinson"]
As a church, if we want our culture to repent of sexual perversions and honor the sanctity of marriage, we must lead through our own repentance. The good news is that those who are actively involved in the local church are 27%-50% less likely to get a divorce,[2] but we still have work to do.
The Barna team released a study back in 2016 that showed 14% of pastors and 21% of youth pastors admitted they currently look at pornography. 57% of pastors and 64% of youth pastors admitted they've looked at pornography in the past. That is compared to 71% of young adults and 50% of teens that say they look at porn online at least once a month.[3]
There is an adultery crisis even within the context of the local church and I believe we must be committed to removing the log (Matthew 7:6-7) from our own eye as we enter this conversation about adultery[4].
As a church, we must aim for holy sexuality. As a biblical counselor, I spend most of my time during the week counseling folks who are a part of my local church and enslaved to sexual sin in some way. This ranges from marital counseling where one spouse committed adultery by having an affair, pornography addiction, and homosexuality.
I share this with you to say the church is not immune to this sin. We must be vigilant. As the passages above show, our very souls are at stake. In my next article, I will give some suggestions on how the church can lead through her own repentance of adultery as we call a sex-crazed culture to repent and express faith in Jesus Christ. Stay tuned.
[1] https://www.dictionary.com/browse/adultery?s=t
[2] https://www.stewardshipcentral.org/posts/the-real-statistics-on-marriage-and-divorce
[3] https://www.barna.com/the-porn-phenomenon/
[4] Notice I said we must remove the log as we enter into the discussion. The church should absolutely speak to the immorality of adultery, but we must do so from a posture of repentance. There is no other way to enter the discussion in a way that honors the Lord.