The Problem with Ignoring Sin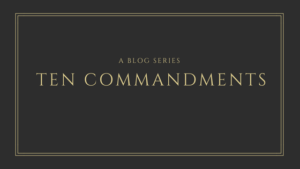 16 "You shall not bear false witness against your neighbor. (Exodus 20:16 ESV)
I have discussed the issues with being preoccupied with the sins of others. I now want to mention the danger of ignoring sin altogether. We live in a culture that normalizes sin (the church has been normalizing sin by ignoring sin for years). For a Christian to speak clearly about what the Bible calls sin is considered hate speech in some parts of the country (although it is not illegal, thankfully). There is a pressure that's been building for some time now to accept or ignore that which God forbids.
I want to take a moment to urge believers to have gospel clarity on sin.
The most unloving thing we can do is bear false witness about what the Bible calls sin. To compromise on this is to biblically hate an individual. We bear false witness about what the Bible calls sin when we;
(a) modify God's Word regarding sin
(b) watch silently as someone walks the path of spiritual death
(c) speak of sin without speaking on how God dealt with sin
If the church adopts the narrative of the culture and either (a) falls silent or (b) manipulates Scripture to accept that which God forbids, we are ignoring the reality that God created men and women as eternal beings.
Allow me to point out some sins Paul mentions in Romans 1:18-32 to further illustrate why we must speak up.
God's Wrath on Unrighteousness
[18] "For the wrath of God is revealed from heaven against all ungodliness and unrighteousness of men, who by their unrighteousness suppress the truth. [19] For what can be known about God is plain to them, because God has shown it to them. [20] For his invisible attributes, namely, his eternal power and divine nature, have been clearly perceived, ever since the creation of the world, in the things that have been made. So they are without excuse. [21] For although they knew God, they did not honor him as God or give thanks to him, but they became futile in their thinking, and their foolish hearts were darkened. [22] Claiming to be wise, they became fools, [23] and exchanged the glory of the immortal God for images resembling mortal man and birds and animals and creeping things.
[24] Therefore God gave them up in the lusts of their hearts to impurity, to the dishonoring of their bodies among themselves, [25] because they exchanged the truth about God for a lie and worshiped and served the creature rather than the Creator, who is blessed forever! Amen.
[26] For this reason God gave them up to dishonorable passions. For their women exchanged natural relations for those that are contrary to nature; [27] and the men likewise gave up natural relations with women and were consumed with passion for one another, men committing shameless acts with men and receiving in themselves the due penalty for their error.
[28] And since they did not see fit to acknowledge God, God gave them up to a debased mind to do what ought not to be done. [29] They were filled with all manner of unrighteousness, evil, covetousness, malice. They are full of envy, murder, strife, deceit, maliciousness. They are gossips, [30] slanderers, haters of God, insolent, haughty, boastful, inventors of evil, disobedient to parents, [31] foolish, faithless, heartless, ruthless. [32] Though they know God's righteous decree that those who practice such things deserve to die, they not only do them but give approval to those who practice them." (ESV)
Paul lists the following sins in this passage:
homosexuality in all its forms

covetousness

malice

envy

murder

strife

deceit

maliciousness

gossip

slander

haters of God

insolent

haughtiness

boastfulness

inventors of evil

disobedience to parents

foolishness

faithlessness

heartlessness

ruthlessness
And the penalty for these is death (32). This isn't just physical death, but an eternal spiritual death in the torments of hell.
Now, this list is given in such a way that none of us are off the hook. After combing through this list of sins we all stand guilty apart from the intervening work of God in Christ. But notice something else in this passage- the sins listed are an outward manifestation of an even greater sin- the sin of unbelief (I addressed this some in my post on thievery).
Paul says that every single person ever created knows that God exists and yet she/he suppresses that knowledge by his/her unrighteousness. This is a vicious cycle. Our unbelief drives our unrighteousness and our unrighteousness further hardens us in unbelief. You may have friends and family that mask their unbelief in some intellectual argument. The Scripture says it is their unrighteousness speaking. They would rather worship the created rather than the Creator.
Therefore, we must have clarity on sin. We must be clear that sin is an outward manifestation of an unbelieving heart. We must be clear that faith in Christ is the only way one can forsake unrighteous living. We must be clear in our call for all men and women to trust in Jesus and forsake sin because their persistence in unbelief will lead to eternal spiritual death.
So, believer, you can't ignore sin. You don't have that option. From homosexuality to dishonoring one's father and mother, we must be clear, crisp, and gospel-saturated.