The Law of God: Two Tables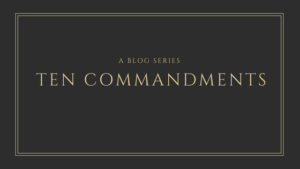 As promised, we have arrived at our very first series of articles. Over the next while (which is to say, I don't know how long this series will last), I will be blogging through The Ten Commandments. If you have any questions along the way, speak up.
The 10 Commandments (also known as the Decalogue, Moral Law, Natural Law, Ten Words, Ten Statements, Mosaic Law, the Law of Moses, Ten Injunctions... I think I've covered them all... ) are familiar to just about everyone and while you may not be able to put them in order, you can probably spout off a few if tested (especially if there's a prize involved).
But when is the last time you internalized the Law? When is the last time you examined your life in light of the Law? What does each one mean? Are they even relevant for us today?
These are important questions that I want to address over a series of articles. This is the first article in that series (so welcome). And in order to begin a conversation on The Ten Commandments, we need to look at a passage of Scripture that summarizes them. So today, we look to Exodus 20:1-17 and lean into the Reformer, John Calvin for a few initial observations about the passage.
God's Law Summarized (10 Commandments)
And God spoke all these words, saying,
2 "I am the Lord your God, who brought you out of the land of Egypt, out of the house of slavery.
3 "You shall have no other gods before me.
4 "You shall not make for yourself a carved image, or any likeness of anything that is in heaven above, or that is in the earth beneath, or that is in the water under the earth. 5 You shall not bow down to them or serve them, for I the Lord your God am a jealous God, visiting the iniquity of the fathers on the children to the third and the fourth generation of those who hate me, 6 but showing steadfast love to thousands[b] of those who love me and keep my commandments.
7 "You shall not take the name of the Lord your God in vain, for the Lord will not hold him guiltless who takes his name in vain.
8 "Remember the Sabbath day, to keep it holy. 9 Six days you shall labor, and do all your work, 10 but the seventh day is a Sabbath to the Lord your God. On it you shall not do any work, you, or your son, or your daughter, your male servant, or your female servant, or your livestock, or the sojourner who is within your gates. 11 For in six days the Lord made heaven and earth, the sea, and all that is in them, and rested on the seventh day. Therefore the Lord blessed the Sabbath day and made it holy.
12 "Honor your father and your mother, that your days may be long in the land that the Lord your God is giving you.
13 "You shall not murder.
14 "You shall not commit adultery.
15 "You shall not steal.
16 "You shall not bear false witness against your neighbor.
17 "You shall not covet your neighbor's house; you shall not covet your neighbor's wife, or his male servant, or his female servant, or his ox, or his donkey, or anything that is your neighbor's."
God Speaks
First, we most notice that God "spoke all these words". That is to say, 'pay attention'. God's perfect Law proceeds from His mouth to His people. The phrase, "all these words" refer to all of God's Law. And these aren't man-made Laws. Moses received these 10 words (remember, just another name for The Ten Commandments) from God who audibly spoke to him. This Law can't be scrutinized by Lawbreakers. This is a perfect Law proceeding from our perfect God.
Calvin's Two Tables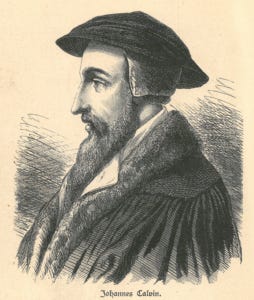 Now, John Calvin (pictured above) saw the Ten Commandments as two divided tables[1]. In his, Institutes of the Christian Religion, he states,
"We must consider the significance of the law's division into two tables, mention of which is frequently made in Scripture, and deservedly so, as any sensible person may judge. The reason for this is easily grasped, so that there need be no room for doubt. For because the Lord intended to teach all righteousness in his law, he divided it in such a way that he assigned to the first table the duties by which we are to honour his majesty, and to the second the works of love which we owe to our neighbor."[2]
So, according to Calvin, there are two tables and to him, this is an obvious division. The first table is summarized in the first four commandments and deal with how God's people are to honor "his majesty". This includes- having no god's before Yahweh; not making and worshipping a graven image; revering God's name as holy; keeping the Sabbath day holy.
From Calvin's perspective, a believer's commitment to these four commandments demonstrates the quality and acceptability of a believer's worship.
The remaining six commandments deal with the "love which we owe to our neighbor". The word, "owe" that Calvin uses is significant because it ties God's Law to a believer's need to connect the gospel with the law. How could we withhold love to our neighbor when God did not withhold His only Son? Calvin saw the order of the Ten Commandments as important. One's submission to the first four commandments would drive obedience to the back six. The first four motivate the back six. In other words, the back six cannot precede or be divorced from the first four commandments.
Now, this is not to say that folks who refuse to submit to God and His ways can't love others. However, according to Scripture, loving others apart from love and devotion to God is a deficient and unacceptable love. Isaiah the prophet says, "We have all become like one who is unclean, and all our righteous deeds are like a polluted garment. We all fade like a leaf, and our iniquities, like the wind, take us away" (Isaiah 64:6). Apart from devotion to God, good deeds are like a "polluted garment". This extends to our love for other people no matter how sincere.
So, there are two tables of the Law and there is an order to the two tables. First, is love, commitment, worship, submission, and devotion to God. Second is the love and service of neighbor. We must keep the order. To do so, we must look at the particulars of each commandment given by God.
[1] I am not asserting that Calvin coined the phrase or perspective of two tables. This two tables perspective was steeped in Reformer and Puritan literature, but I find Calvin's comments crisp and concise.
[2] John Calvin Institutes of the Christian Religion 1541 Edition (Edinburgh: Banner of Truth Trust, 2014), 117-8.