Murder: America's Corporate Sin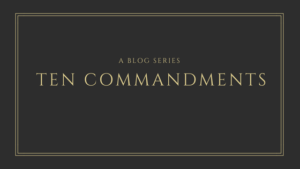 13"You shall not murder." (Exodus 20:13 ESV)
This is our final journey through this particular commandment (see my last article here). Today I want to address murder as a corporate sin.
At times in the Old Testament, we see that Israel shared in corporate sins that had to be dealt with swiftly (see, for instance, Joshua 7-9). God held the whole nation of Israel accountable to repenting of corporate sins.
Much like the nation of Israel in the Old Testament, we share in a particular corporate sin as Americans and that is the sin of murder. Since Roe v Wade America has authorized the murder of 60,613,931[1] children through abortion. America has authorized (and celebrated) that which God universally forbids and condemns. This is a grievous sin against God and against those created in the image of God.
As Christians, not only should we speak out about this travesty, but we should be a part of the solution. As you know by now, my target audience is the church, so I want to direct my energies toward what being a part of the solution looks like for her.
Keep first things first.
In other words, be heralds of the gospel of grace to those who are pro-abortion. My wife and I have many friends and family members who are pro-abortion. I do not make abortion the topics of our conversations together, but I do genuinely love these people, practice hospitality with these people, share the gospel with these people, and pray for these people. Abortion is an important and urgent issue, but it is secondary to the gospel. I care about the souls of my unbelieving friends and family. And I do believe if the Lord saves our unbelieving friends and family, they will become champions of life. Therefore, keep first things first.
Be an ambassador for life in the context of your local church.
We cannot preach against abortion and fail to offer solutions to those facing an unplanned pregnancy. In my community, there is only one pregnancy center, care net peninsula (http://www.cnpeninsula.org/). This pregnancy center's strategy and quality of care is top notch. They not only care for children, they offer care and support to moms and dads facing an unplanned pregnancy. Additionally, they offer counseling to women who have had an abortion and later regret it. This organization genuinely loves women. Care net peninsula offers all their services free of charge because they are funded by local churches and individuals. My local church supports this important ministry through the tithes of members of our church. Additionally, my wife and I donate as individuals above and beyond what we tithe to our local church. If abortion is a corporate sin, we must all be involved in some way to help our nation repent.
[bctt tweet="If abortion is a corporate sin, we must all be involved in some way to help our nation repent." username="joey_tomlinson"]
If you are local and you're reading this, find out how you can get involved with care net peninsula. If you aren't local, find a pregnancy center near you and find out how best you can support them.
Write to your government officials.
I live in a pro-abortion state. I am represented by two pro-abortion senators and a pro-abortion governor. This does not stop me from writing my senators. Make your voice heard. We live in a country where our voice matters. Speak up. Vote for candidates that are pro-life. Write to the candidates in your state who aren't pro-life. Abortion isn't the only issue that matters, but it is a top-tier issue. As a believer, I cannot vote for someone who is not pro-life. As a Christian, neither should you.
[1] Planned Parenthood has participated in 8,180,830 of those and 18,184,179 are African American children. Certainly, we should all see that there is a particular race in our country targeted for extermination by supporters of abortion. The statistic comes from numberofabortions.com.