Meditations for a Thief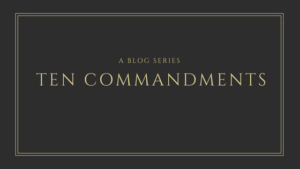 15"You shall not steal." (Exodus 20:15 ESV) Thanks for persevering with me thus far. Today we are going to begin scratching the surface on the eighth commandment. Furtum is the Latin word for theft and it means to "lay hands unjustly on that which is another's or invading another's rights."[1] The root cause of this theft is unbelief and it is appropriate to ask the question, "What does the thief fail to believe?" Thomas Watson, in his book on The Ten Commandments, gives us the answer: Thieves do not believe or trust God's providence. From a Christian worldview, God's providence can be described as God's good, faithful, and precise protective care over our lives and circumstances. In today's article, I want to break down what thieves do not believe and give some passages we can meditate on as we have all broken this commandment in some way.
The thief does not believe God is good.
 Meditation: Psalm 145:9 says, "The LORD is good to all, and his mercy is over all that he has made." (ESV)
The thief does not believe God is faithful.
Meditation: Lamentations 3:22-23 says, "The steadfast love of the LORD never ceases; his mercies never come to an end; they are new every morning; great is your faithfulness."
The thief does not believe God is precise.
Meditation: Isaiah 48:13 states, "Surely My hand founded the earth, And My right hand spread out the heavens; When I call to them, they stand together. Meditation: Proverbs 8:27-31 states, "When he established the heavens, I was there; when he drew a circle on the face of the deep, when he made firm the skies above, when he established the fountains of the deep, when he assigned to the sea its limit, so that the waters might not transgress his command, when he marked out the foundations of the earth, then I was beside him, like a master workman, and I was daily his delight, rejoicing before him always, rejoicing in his inhabited world and delighting in the children of man." Meditation: Psalm 104:5 states, He set the earth on its foundations, so that it should never be moved.
The thief does not believe God is protective.
Meditation: Deuteronomy 31:6 says, "Be strong and courageous. Do not fear or be in dread of them, for it is the LORD your God who goes with you. He will not leave you or forsake you." (ESV) Meditation: Psalm 46:1 says, "God is our refuge and strength. An ever present help in trouble." (ESV) Meditation: Psalm 138:7 says, "Though I walk in the midst of trouble, you preserve my life. You stretch out your hand against the anger of my foes; with your right hand you save me." Meditation: 2 Thessalonians 3:3 says, "But the Lord is faithful. He will establish you and guard you against the evil one." (ESV)
The thief does not believe God cares.
Meditation: Philippians 4:19 says, "And my God will supply every need of yours according to his riches in glory in Christ Jesus." (ESV)  Meditation: 1 Peter 5:6-7 says, "Humble yourselves, therefore, under the mighty hand of God so that at the proper time he may exalt you, casting all your anxieties on him because he cares for you." (ESV)
The thief does not believe God is sovereign.
Meditation: Job 42:2 says, "I know that you can do all things, and that no purpose of yours can be thwarted." (ESV) Meditation: Psalm 24:1-2 says, "The earth is the LORD's and the fullness thereof, the world and those who dwell therein for he has founded it upon the seas and established it upon the rivers." (ESV) Meditation: Isaiah 46:10 says, "I make known the end from the beginning…" (ESV) [1] Thomas Watson, The Ten Commandments (Edinburg: The Banner of Truth Trust, 2009), 164.