Meditation, Jonathan Edwards, and Resolutions (3)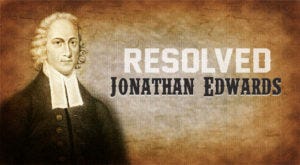 3. Resolved, if ever I shall fall and grow dull, so as to neglect to keep any part of these Resolutions, to repent of all I can remember, when I come to myself again.
We all grow dull. Sin has impacted us in numerous ways. First, sin hardens our hearts and makes us insensitive to the things of God. When this happens, we grow cold and dim. This is what the author of Hebrews calls being 'deceived by sin's deceitfulness' (Hebrews 3:12-14). In that same passage, the author of Hebrews also reminds us that Christian community in the context of a local church is a good way to ensure we snap out of our dullness. The local church is a means of perseverance in the faith.
Secondly, we suffer from being foggy minded and lethargic at times. This is the result of Adam's sin. Our bodies are weak, frail, and unsubmissive. There are seasons where we are physically prevented from engaging in spiritual disciplines the way we'd like. During those times, we must persevere and change course as soon as the fog lifts.
Believer, be watchful. The day is coming when you'll grow dull. When you do, run as quickly as you can to Christ.