Meditation and Prayer (For those who are Weak)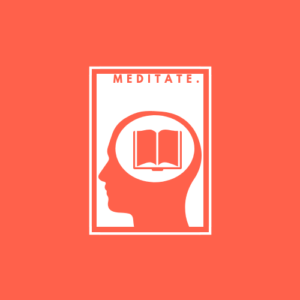 If you're anything like me, you've struggled in your prayer life. Let me set the scene: You're up early. You've brewed your coffee and now you're sitting in your favorite chair with your Bible and pen in hand. You start with your Bible reading, writing in the margins, underlining passages that stand out to you and you come to the end of your Bible reading for the morning and it's time for prayer. You're well intentioned and your prayer time starts off at a strong mediocre, but your mind begins to drift. Suddenly, your thoughts are raptured (not like in the Left Behind series) to your to-do lists. You begin to think through your day- the people you'll encounter, the difficult conversations you need to have, that deadline that seems to have caught you by surprise. And about ten minutes into this thought drift, you realize you aren't praying. You are strategizing your day. You may even be worrying. If this is you, don't be discouraged. Meditation can help.
Meditation can be a great bridge between your daily Bible reading and your prayer life. The best way to demonstrate this is by giving you an example.
Let's say that your Bible reading plan for the day includes Psalm 63 (which actually includes a section on meditation). If you were to meditate on the first 5 verses of Psalm 63, those verses could begin to shape your prayer life and begin to look something like this:
Psalm 63:1- God, you are my God; I eagerly seek you. I thirst for you; my body faints for you in a land that is dry, desolate, and without water.
Prayer: Lord, today I am emotionally/physically/spiritually spent. To be honest, I have felt this way a long time- dry, desolate, parched. But give me strength, like the Psalmist to seek you in the midst of my drought. You are my God. You are the only one who satisfies. You are the only one who can nourish me. You, Lord, are my portion. And Lord, I am surrounded by weary believers and I pray they will see You as their portion too. I pray You will strengthen them. Lord, this city/country/nation/world is a dry and desolate place. And You've called me to live in it and to call people from every tribe, tongue, and nation to drink deep from the living water- Christ Jesus, Your Son. Help me to be obedient and diligent in this wonderful task, even in the midst of my own weariness.
Psalm 63:2- So I gaze on you in the sanctuary to see your strength and your glory.
Prayer: Although I am weak, Lord, You are strong. And it is in my weakness that Your strength is made evident. So I thank you for my weakness. Lord thank you for the privilege I have to enter your sanctuary. For I know that it is only because of Christ that I may do so.
Psalm 63:3- My lips will glorify you because your faithful love is better than life.
Prayer: And Lord, help me to believe and trust that Your love is better than life. I pray Your Holy Spirit will remind me of that when I am prone to forget it- every day.  I pray for my lost friend(s)/relative(s)/co-worker(s) that think this life is better than your love. Lord, convict them. Soften their hearts to the truth that You are better than life. Soften their hearts so that as I administer the gospel, they will turn from sin and trust in Jesus.
Psalm 63:4- So I will bless you as long as I live; at your name, I will lift up my hands.
Prayer: Lord, I rejoice as I think about who You are and how richly You have blessed me. You have supplied for all my need- the biggest need being my separation from You. Lord, how can I not bless You with my life? Forgive me where I daily fall short.
Psalm 63:5- You satisfy me as with rich food; my mouth will praise you with joyful lips.
Prayer: Lord, You're all I need. Often times, You're not all I want, but You are all I need. Help me to believe that. Help me to trust that. If everything is stripped from me, You still satisfy. You are still my portion and therefore I have reason to praise You. I have reason to be joyful. Lord forgive me for my discontentment. Give me the grace I need to be satisfied in You today. In Jesus name, Amen.
Notice, that I am not attempting to focus on the grammatical/historical background of the text. I am not interpreting the text. I am not preparing a Bible lesson. I am communing with God. As I meditate on each verse, I am offering that verse as a prayer to the Lord. This requires me to pray with my eyes open (unless of course, I have this passage memorized). It may require me to journal my prayer (although it is not necessary). It does require sustained thinking/pondering of the text.
What I'm doing is allowing the Scriptures to shape the direction of my prayers. Naturally, this puts God and His gospel at the center, allows me to confess my neediness (and even emotions), and gives me the opportunity to pray for others in my life. Meditating on the Word as a means to pray the Word is a great way to stay focused, biblical, and consistent. It has benefited me tremendously, I wholeheartedly commend it to you.