Is Killing the Same Thing as Murder?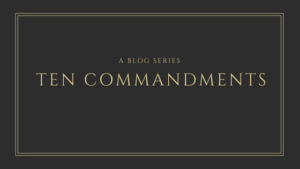 "13You shall not murder." (Exodus 20:13 ESV)
We are plodding right along through The Ten Commandments together. I pray it has been encouraging and challenging for you. Thanks for persevering with me thus far.
Today we move to commandment six. This is the second commandment on the second table and we see a quick progression from commandment five (honor your father and mother) to today's commandment on murder. And we have to ask ourselves, 'how did we get here?'.
Now, don't tune out just because you haven't murdered anyone.
Let's first define the word murder and then in my next article, I will bring in some commentary from the New Testament to demonstrate that none of us are off the hook.
There has certainly been debate around this particular commandment especially in light of the fact that the KJV (unlike the ESV) translates this Hebrew word to killing. This is a problematic translation because when Moses penned this commandment he distinguished between killing and murder. These words are not interchangeable and as Christians, we must be crisp and articulate on this point.
Killing is not in view in this commandment. The word Moses uses in Hebrew means to slay as an avenger or to manslaughter without intent or to kill in an unauthorized way. Simply put, murder is always unauthorized. Killing is not always unauthorized.  We will tease out unauthorized killing a bit more in article three on this commandment, but it is important to know that killing is not universally condemned. You may want to believe the Bible universally condemns it, but it doesn't.
As a matter of fact, certain types of killing is commanded in the Old Testament for certain sins that were also crimes[1] (Exodus 21:12 for example). This type of killing you may know as capital punishment.
Killing is also just when God kills certain people or people groups in His righteous judgment against them (Genesis 6:7 in the flood for example or Genesis 19 with Sodom and Gomorrah or Exodus 12 with Egypt's firstborn).[2]
Not only do we see acceptable killing and capital punishment in the Old Testament, but we see the Apostle Paul say in Romans 13:3-4
"3 For rulers are not a terror to good conduct, but to bad. Would you have no fear of the one who is in authority? Then do what is good, and you will receive his approval, 4 for he is God's servant for your good. But if you do wrong, be afraid, for he does not bear the sword in vain. For he is the servant of God, an avenger who carries out God's wrath on the wrongdoer." (ESV)
God is not a pacifist.
[bctt tweet="God is not a pacifist" username="joey_tomlinson"]
Not only is killing acceptable in certain cases, but it is commanded by God and His Scripture in certain situations and has been reaffirmed in the New Testament. Killing is not the same as murder. Murder is universally condemned. Killing is acceptable in particular situations. And under the New Covenant, the Lord has entrusted the government to punish evildoers in some cases using the sword.
[1] It is important to note that not all sins are crimes and since the New Covenant, we do not submit to the Positive Law with its capital punishments for certain sins (i.e. putting to death disobedient children, putting to death adulterers, putting to death those who break the Sabbath, etc.).
[2] There are examples of this all throughout the Old Testament: Exodus 14:28; Leviticus 10; Numbers 11; 14; 16; 21; 25; Deuteronomy 32:39; Joshua 10; 1 Samuel 6; 25; 2 Samuel 6; 24; 1 Kings 13; 14; 20; 22; 2 Kings 1; 2; 17; 19; 2 Chronicles 13; 21- just to name a few. The thing to remember is that God is just and righteous in His judgment.