God Defines How He Will Be Worshipped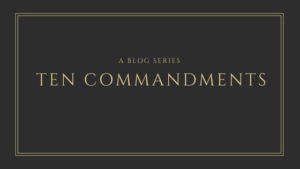 4 "You shall not make for yourself a carved image, or any likeness of anything that is in heaven above, or that is in the earth beneath, or that is in the water under the earth. 5 You shall not bow down to them or serve them, for I the Lord your God am a jealous God, visiting the iniquity of the fathers on the children to the third and the fourth generation of those who hate me, 6 but showing steadfast love to thousands, of those who love me and keep my commandments" (Exodus 20:4-6 ESV).
This is article four in a series of articles I'm writing on the Law of God. In the last article, we examined the first commandment- that there are to be no other gods before Yahweh (Exodus 20:3). Now, I want to look at perhaps one of the more neglected commandments and that is that God defines how He is to be worshipped.
God defines how He is to be worshipped.
Matthew Henry once said that the second commandment concerns the way in which God will be worshipped.
Much like the first commandment, we are not to have any other gods before Yahweh. However, this isn't just the first commandment being repeated. There is something else going on here.
According to this commandment, there is to be no image even of the invisible God (likeness of anything that is in heaven above…). There. I said it up front. Please keep reading.
Consider, for a moment how the 1689 Baptist Confession of Faith organizes what the Bible teaches about God in chapter 2 paragraph 1:
"The Lord our God is but one only living and true God; whose subsistence is in and of Himself, infinite in being and perfection; whose essence cannot be comprehended by any but Himself; a most pure spirit, invisible, without body, parts, or passions, who only hath immortality, dwelling in the light which no man can approach unto; who is immutable, immense, eternal, incomprehensible, almighty, every way infinite, most holy, most wise, most free, most absolute; working all things according to the counsel of His own immutable and most righteous will, for His own glory; most loving, gracious, merciful, long-suffering, abundant in goodness and truth, forgiving iniquity, transgression, and sin; the rewarder of them that diligently seek Him, and withal most just and terrible in His judgments, hating all sin, and who will by no means clear the guilty."[1]
Again, this is a confession of faith summarizing what the Bible says we are to believe regarding God. After reading the confession, it should be obvious that this infinite, pure spirit, Yahweh cannot be depicted and therefore should not be depicted. We cannot comprehend Him. He must condescend to us (through speaking in Scripture and in the person of Jesus) so that we may know Him truly (but not exhaustively). We are to worship God as He reveals Himself in Scripture and there is no way to adequately capture God through an image. Any attempt to capture Him fails and distorts the perspective we should have of Him. Furthermore, any image of God becomes a medium through which we worship God and that is idolatry.
[bctt tweet="Any image of God becomes a medium through which we worship God and that is idolatry." username="joey_tomlinson"]
The only acceptable image of God is Christ Jesus. Paul says in Colossians 1:15-20,
"He [Jesus] is the image of the invisible God, the firstborn of all creation. For by him all things were created, in heaven and on earth, visible and invisible, whether thrones or dominions or rulers or authorities- all things were created through him and for him. And he is before all things, and in him all things hold together. And he is the head of the body, the church. He is the beginning, the firstborn from the dead, that in everything he might be preeminent. For in him all the fullness of God was pleased to dwell, and through him to reconcile to himself all things, whether on earth or in heaven, making peace by the blood of his cross."
Even though Jesus is the only acceptable image of God it is not a coincidence that He came during a time where there were no cameras. It is no coincidence that the Holy Spirit didn't inspire the Apostles to describe Jesus in detail. The reason why is because God forbade it.
Albert Mohler, President of Southern Seminary stated this about the second commandment: "We are to make no image of Him. We should paint no pictures of Him. If we were to know the visual image of Christ, He would have left us His visual image. He did not. ANd every picture or portrait of Him is an invention, and as an invention, it robs Him of His glory. The worship of icons is just wrapped up in the foolishness of the same lie. God does not command or authorize the use of images in order to understand and worship Him. As a matter of fact, God condemns images and leaves no doubt concerning the matter."[2]
Listen to me very closely- what the Ten Commandments say about God applies to all three persons of the Trinity.
[bctt tweet="What the Ten Commandments say about God applies to all three persons of the Trinity." username="joey_tomlinson"]
To not apply the second commandment to Jesus or the Holy Spirit is to subscribe to a type of tritheism (the belief that the persons of the Trinity are three separate gods). Jesus is truly man, but Jesus is truly God and Deity cannot be captured with an image and it is a breaking of the second commandment to attempt it.
We desperately need more sustained biblical thinking on this (and if you're shocked by what you're reading, that proves my point). Many of us have so many images of Jesus (movies, pictures, jewelry, t-shirts, etc.) I have a growing concern that much of what we know about God comes from man-made images.
Friends, when you worship, does Jim Caviezel come to mind? I'm serious. How much of your devotional life is driven by what the Scripture teaches you about God versus what pop-culture teaches you about God?
Here is a sobering truth:
God pours out His wrath on those who claim to be wise and exchange the "glory of the immortal God for images resembling mortal man and birds and animals and creeping things" (Romans 1:23 ESV).
Are we Romans 1 worshippers of God?
[1] We want to ensure that we aren't placing a confession over the authority of Scripture. This confession is merely organizing and summarizing what the Bible teaches about God. It would be time well spent to look at the following Scriptures that prop up this statement on God: 1 Corinthians 8:4, 6; Deuteronomy 6:4; Jeremiah 10:10; Isaiah 48:12; Exodus 3:14; John 4:24; 1 Timothy 1:17; Deuteronomy 4:15, 16; Malachi 3:6; 1 Kings 8:27; Jeremiah 23:23; Psalm 90:2; Genesis 17:1; Isaiah 6:3; Psalm 115:3; Isaiah 46:10; Proverbs 16:4; Romans 11:36; Exodus 34:6, 7; Hebrews 11:6; Nehemiah 9:32, 33; Psalm 5:5, 6; Exodus 34:7; Nahum 1:2, 3.
[2] Mohler, Albert R. Words from the Fire: Hearing the Voice of God in the 10 Commandments. (Chicago: Moody, 2009), 59.