Coveting, Augustine, and the iPhone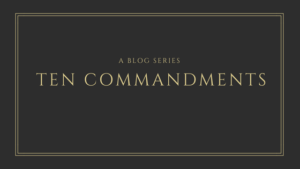 "You shall not covet your neighbor's house; you shall not covet your neighbor's wife, or his male servant, or his female servant, or his ox, or his donkey, or anything that is your neighbor's." (Exodus 20: 17, ESV)
We have made it to the tenth commandment and God knows Americans need His instruction on this matter. I recently read a statistic that said we have less than 3.1 percent of the world's children and 40% of the world's toys. [1] We are materialistic people. We always want the latest and greatest. We numb ourselves with money and gifts so that we can drown out the emptiness and despair for just a fleeting moment.
As I am writing this article, Apple released their new iPhone (which over the years has become 3 different phone releases at once). The day after they announced it, I watched as those on social media talked about spending outside of their means so they could be the first to get this new line of must-have Apple products. There was a lightheartedness around the decision to rack up thousands of dollars of credit-card debt for a phone and watch. Sadly, next year they'll do the same thing.
This year Americans have paid 108 billion dollars in credit card interest to banks. This is an increase of 11% from last year and an increase of 35% over the last 5 years. Total revolving credit card balances in America are in excess of 1.04 trillion dollars. [2]
According to the Federal Reserve, the average American household carries around 140 thousand dollars of debt. This debt breaks down to around 17 thousand in individual credit card debt, 30 thousand in auto loan debt, and 50 thousand in school loans. On top of this, the average home loan is around 180 thousand dollars. [3]
These statistics alone should demonstrate that we have a problem with covetousness in our culture. We will do whatever it takes to have things we perceive happy people own.
[bctt tweet="We will do whatever it takes to have things we perceive happy people own." username="@joey_tomlinson"]
As I struggle with this sin and as I counsel folks who struggle with it, I find coveteousness amplifies anxiety. We are anxious because what we have is never enough. Interestingly enough, St. Augustine defined coveteousness as "desiring more than enough". Augustine knew what it meant to covet. By his own admission, he coveted his neighbor's wife (Confessions 2.3.7.; 4.2.2), eloquence and knowledge (3.4.7), worldly honor and pleasure (2.5.10) and just about everything in between. And after his heart was captivated by God and the gospel he finally realized and confessed, "restless is our heart until it comes to rest in you" (1.1.1).
[bctt tweet="Restless is our heart until it comes to rest in you- St. Augustine" username="@joey_tomlinson"]
What covetous people need is rest. Not distraction. Not self-medication through owning or possessing more things.
Covetous people need God's prescription for rest and that is found in Christ's invitation in Matthew 11:28-30:
[28] "Come to me, all who labor and are heavy laden, and I will give you rest. [29] Take my yoke upon you, and learn from me, for I am gentle and lowly in heart, and you will find rest for your souls. [30] For my yoke is easy, and my burden is light." (ESV)
There is no substitute for this. Are you anxious? Are you discontent? Are you unhappy? Stop looking for peace in earthly relationships and possessions. Look to Christ. Rest in Christ.
[1] Beth Teitell, "Today's Families Are Prisoners of Their Own Clutter," Boston Globe, July 9, 2012, https://www.boston.com/culture/relationships/2012/07/10/todays-families-are-prisoners-of-their-own-clutter
[2] https://www.magnifymoney.com/blog/news/u-s-credit-card-debt-by-the-numbers628618371/
[3] https://www.usatoday.com/story/money/personalfinance/2017/11/18/a-foolish-take-heres-how-much-debt-the-average-us-household-owes/107651700/