A Thief's Greatest Need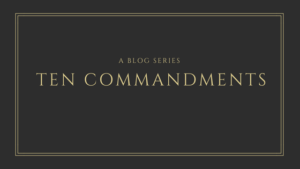 15"You shall not steal." (Exodus 20:15 ESV)
In my first article on this commandment, I gave some meditations (remind me to write some articles about the spiritual discipline of meditation soon) for thieves such as us. In my last article, I explored some ways we rob God. Today, redeemed thieves everywhere should be reminded that God provided for our biggest need ever: reconciliation.
"One of the criminals who were hanged there was hurling abuse at Him, saying, "Are You not the Christ? Save Yourself and us!" But the other answered, and rebuking him said, "Do you not even fear God, since you are under the same sentence of condemnation? And we indeed are suffering justly, for we are receiving what we deserve for our deeds; but this man has done nothing wrong." And he was saying, "Jesus, remember me when You come in Your kingdom!" And He said to him, "Truly I say to you, today you shall be with Me in Paradise." (Luke 23:39-43 NASB)
Jesus brought the thief on the cross into paradise. God has sufficiently given us everything we need for life and godliness (2 Peter 1:3). The Lord is our Shepherd, therefore, we shall never want (Psalm 23). As believers, we are fully satisfied. We are content. We are saved to the uttermost (Hebrews 7:25).
Our Loving God sent our Sufficient Savior to bring thieves (and Lawbreakers everywhere) into right relationship with Himself. He accomplished this reconciliation through the perfect life, death, burial, bodily/eternal resurrection and ascension of Christ (Acts 1:6-11; Acts 16:31; Romans 8:1; 34; 1 Corinthians 15; Ephesians 1). And the Holy Spirit, who is co-eternal and co-equal with the Father and Son has sealed our election (Ephesians 1:13).
Thieves rejoice and repent. The Lord brings with Him, salvation and He is sufficient.