6 Reasons the Ten Commandments Are Binding on Believers Today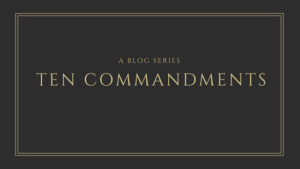 If you're just joining us, try to keep up, will you? This is article two (see article one here) in a series of articles I am writing on the Law of God. And by "Law of God" I mean the Ten Commandments also known as the Ten Words or the Moral Law or Natural Law.
In the last article, we concluded that there are two tables of the Ten Commandments. Jesus seems to confirm this for us in Matthew 22:37-40 when he states,
"You shall love the Lord your God with all your heart and with all your soul and with all your mind. This is the great and first commandment. And a second is like it: You shall love your neighbor as yourself. On these two commandments depend all the Law and the Prophets." (ESV)
Table One: Love the Lord your God with all your heart, soul, and mind.
Table Two: Love your neighbor as yourself.
When you hear local church mission statements say, "Love God, Love others", usually they are unwittingly summarizing the Law of God; The Ten Commandments.
In today's article, I want to address the question,
Are the 10 Commandments Binding on Believers Today?
In short, yes, they are.
As we journey through this series together, I trust you will see why, but it is important to lay the groundwork in this article so that we can move forward with clarity. I am going to give you six reasons why the Law is binding on believers. "Why six", you ask? I was too tired to write anymore. Anyways, let's begin.
The Ten Commandments did not begin at Mt. Sinai.
 In Genesis 2:1-3 we see God set a pattern of rest; a blessed and holy day. We see that marriage was intended between one man and one woman forever in a one-flesh union (Genesis 2:24-25). It is clear from Genesis 2 and 3 that Adam and Eve had an eschatology. That is to say that they were working toward something. Theologians call this the 'covenant of works'. The covenant of works refers to that covenant God made with Adam and Eve in their purity by which they could earn eternal life if they did not transgress God's commandment (pre-Mt. Sinai). If they kept the command, they would inherit a better Eden without a serpent.
After the fall of man, we see Cain and Abel bringing offerings before the Lord. There was an understanding as to what was acceptable and what wasn't acceptable.  Abel's offering pleased the Lord. Cain's offering was rejected by God.
We also see that anger, lying, and murder were understood sins before Mt. Sinai (Genesis 4:6-16).  We only need arrive at Genesis 6 before we see that it was understood that man was thoroughly corrupt (Genesis 6:5) and in rebellion against God and His understood Law.
[bctt tweet="The Law was present before Mt. Sinai. The Law was summarized at Mt. Sinai, but it was transgressed by the first Adam long before."]
The Law was present before Mt. Sinai. The Law was summarized at Mt. Sinai, but it was transgressed by the first Adam long before.
The Ten Commandments (Natural Law) are not the civil or ceremonial laws (Positive Law).
There are two types of law in the Old Testament and oftentimes those who want to do away with The Ten Commandments consolidate both types of law in order to dismiss it. This article is making the case that The Ten Commandments are enduring and binding. In order to sustain this, we must have a clear understanding that The Ten Commandments are distinct from what theologians call the Postive Law. The Positive Law contains civil and ceremonial law practices and is a category on its own.
The first part of the Positive Law is the civil (or judicial) law. This law regulated the political life of Israel as a nation. Under the New Covenant, this law is done away with.
Paul says in Galatians 3:23-29,
"Now before faith came, we were held captive under the law, imprisoned until the coming faith would be revealed. So then, the law was our guardian until Christ came, in order that we might be justified by faith. But now that faith has come, we are no longer under a guardian, for in Christ Jesus you are all sons of God, through faith. For as many of you as were baptized into Christ have put on Christ. There is neither Jew nor Greek, there is neither slave nor free, there is no male and female, for you are all one in Christ Jesus. And if you are Christ's then you are Abraham's offspring, heirs according to promise." (ESV)
According to Paul, in Christ, we are all one. The civil law that distinguished the nation of Israel from other nations is obsolete. The gospel unites people from every tribe, tongue, and nation (including every political persuasion) and calls them "Abraham's offspring".
The second element of the Positive Law includes the ceremonial law. This law pertains to Israel's worship of God: Circumcision, animal sacrifices, the Jewish calendar of feasts and festivals are all part of what Paul calls a "shadow of the things to come…" (Colossians 2:17a ESV). In the New Covenant, the ceremonial law is obsolete. That is a part of what makes the new covenant so new.
The Ten Commandments are useful.
John Calvin in his Institutes of the Christian Religion submitted three functions The Ten Commandments serve:
The Mirror: That is to say God designed the Law such that we see clearly our depraved state and our need for Christ Jesus.
Paul says in Romans 3:19-26,
"Now we know that whatever the law says it speaks to those who are under the law, so that every mouth may be stopped, and the whole world may be held accountable to God. For by works of the law no human being will be justified in his sight, since through the law comes knowledge of sin. But now the righteousness of God has been manifested apart from the law, although the Law and the Prophets bear witness to it- the righteousness of God through faith in Jesus Christ for all who believe. For there is no distinction: for all have sinned and fall short of the glory of God, and are justified by his grace as a gift, through the redemption that is in Christ Jesus, whom God put forward as a propitiation by his blood, to be received by faith. This was to show God's righteousness, because in his divine forbearance he had passed over former sins. It was to show his righteousness at the present time, so that he might be just and the justifier of the one who has faith in Jesus." (ESV)
The Restrainer of Evil: All of us are sinful, but the Law keeps us from being as sinful as we could be. As I said earlier in this article, the Law was given before Mt. Sinai. However, the Scripture also says the Law of God is written on our hearts (Jeremiah 31:33; Romans 2:15; Hebrews 10:16).
A Revelation of God's Will: God has accomplished His salvation for His people through the person and work of Jesus and has applied this salvation to us by His Holy Spirit. Salvation is not God's only plan for believers. Paul says in 1 Thessalonians 4:3a, "For this is the will of God, your sanctification…" then he goes on to tease out God's Law. God's Law reveals to believers God's ongoing plan for them. And believers are expected to submit their lives to God's Law because He has revealed it to them through Scripture and the Holy Spirit lives in them.
Jesus reaffirmed The Ten Commandments in the New Testament.
Jesus reaffirms The Ten Commandments all throughout Matthew 5 (and other New Testament passages reaffirm The Ten Commandments too), but I want to focus on what Jesus says in Matthew 5:17-20:
"Do not think that I have come to abolish the Law of the Prophets; I have not come to abolish them but to fulfill them. For truly, I say to you, until heaven and earth pass away, not an iota, not a dot, will pass from the Law until all is accomplished. Therefore whoever relaxes one of the least of these commandments and teaches others to do the same will be called least in the kingdom of heaven, but whoever does them and teaches them will be called great in the kingdom of heaven. For I tell you, unless your righteousness exceeds that of the scribes and Pharisees, you will never enter the kingdom of heaven." (ESV)
Now, there are two things I want you to see from this passage. First, the Law of God is fixed and unchangeable. The reason it is unchangeable is that it came from the mouth of the unchangeable God. And Jesus says that none of it will pass away until the new heavens and earth. In other words, until the last enemy (death) is destroyed (1 Corinthians 15:26), God's Law remains and is binding. It is God's standard by which His people may fellowship with Him. And the Law not only reveals God's standard, it reveals God's character. Second, the Law of God drives the unbeliever and believer toward Christ. Christ is the only One capable of upholding God's Law, therefore we need Him. This brings me to our next point.
Jesus kept The Ten Commandments.
Going back to the passage we just examined, Jesus says in Matthew 5:17,
"Do not think that I have come to abolish the Law of the Prophets; I have not come to abolish them but to fulfill them." (ESV)
And fulfill them He did.
Jesus, being truly God and truly man (the second Adam as Paul says) upheld the Law that the first Adam could not. Paul says of Jesus, the second Adam,
"Therefore, as one trespass led to condemnation for all men, so one act of righteousness leads to justification and life for all men. For as by the one man's disobedience the many were made sinners, so by the one man's obedience the many will be made righteous" (Romans 5:18-19 ESV).
Jesus kept every aspect of The Ten Commandments. And Christ's obedience and righteousness are given to believers as a free gift. In return, Jesus takes our sin and the Father pours out His wrath for our sin completely on Christ. Jesus did what we couldn't do. Jesus kept the Moral Law.
But the Bible doesn't just put Jesus forward as our Savior, the Scripture says He is our example too.
Paul says in Philippians 2:5-8,
"Have this mind among yourselves, which is yours in Christ Jesus, who though he was in the form of God, did not count equality with God a thing to be grasped, but emptied himself, by taking the form of a servant, being born in the likeness of men. And being found in human form, he humbled himself by becoming obedient to the point of death, even death on a cross."
Paul is telling the church at Philippi, "be like Christ". We see this charge all throughout the New Testament. A Christian that is Christlike is conforming more into the image of Christ.
As a Christian, to be obedient to the Moral Law of God is to be like Christ. This brings me to my last point.
We can and should keep The Ten Commandments.
The Apostle John says,
"And by this we know that we have come to know him [Christ], if we keep his commandments. Whoever says "I know him" but does not keep his commandments is a liar, and the truth is not in him, but whoever keeps his word, in him truly the love of God is perfected. By this we may know that we are in him: whoever says he abides in him ought to walk in the same way in which he walked" (1 John 2:3-6 ESV).
To know Christ is to love His Law and His Law is that which the Father gave. Jesus and the Father are one (John 10:30). Jesus didn't abolish the Law. Jesus didn't redefine the Law. Jesus fulfilled the Law and reaffirmed the Law and He expects His followers to keep the Law. And we can do so, albeit imperfectly. We can do so because the Holy Spirit is in us and that means something. He is not only the guarantee of our inheritance (Ephesians 1:14), He is our Helper (John 14:26).
This article much like every article is not exhaustive, but it is enough to conclude that the Ten Commandments are in fact binding on believers today. All ten of them. And it is our joy to keep them because we are in Christ.