5 Ways We Rob God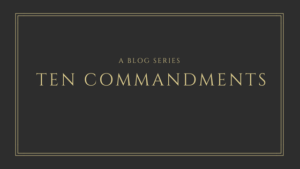 15"You shall not steal." (Exodus 20:15 ESV)
In my last article, I asserted that the root cause of thievery is unbelief. Today, I'd like to spend a few moments highlighting the different ways we steal. Because I want us to see the blasphemous nature of our sin, I am going to keep God at the center in each point.
As you well know, you are not off the hook on this commandment. I'm not off the hook. We are breakers of the whole Law of God, not just a few laws. Let's dive in.   
We rob God when we do not tithe.
I know I may have lost some of you just now, but hear me out. Many of you reading this, may think that tithing is not a New Testament command. Of course, I think you're wrong. Additionally, I think to ask whether or not it's a New Testament obligation is the wrong question. I will spend time on this in a stand-alone article (probably called, "why I tithe"), but it must be addressed here.
I agree with PCA Pastor, William Barcley: "The requirement to tithe preceded the Mosaic law, was codified in it with ceremonial aspects added, and was affirmed by Jesus as binding on his followers."[1]
Cain and Abel were to bring firstfruits. This was understood by worshippers of Yahweh.
The 10 Commandments say not to steal. I do not believe it is a stretch to assert that God has in scope our 'firstfruits'.
Not only do I think all believers should tithe, but the Lord has instituted his local church as the means to collect and administrate tithes (Romans 15:14-32; 1 Corinthians 16:1-4; 2 Corinthians 8:1-9:15).
God owns your stuff. You own nothing. You came into this world with nothing and will leave it the same (Job 1:21). You are a steward of belongings that do not belong to you. However, we often have the audacity (and arrogance) to believe we own stuff.
Everything you have is a gift you're called to carefully steward.
A new local coffee shop opened up close to where I live in the historic district of Yorktown. My wife and I had a chance to spend some time with the owners and with pride, they told us how they have become the caretakers of this historic building (the Cole Diggs house) where they operate their coffee shop. They do not own this house. They understand they are caretakers of it for as long as they have a lease. It is their joy to be good caretakers.
In the same way, we are caretakers of everything the Lord has entrusted to us: children (more on that in a moment) and resources. We must not be the like the man who was entrusted with one talent and buried it because of his distorted view on possessions and on the master of the talents (Matthew 24:14-30).
We rob God when we do not administer the gospel.
The Lord has entrusted us with the gospel. He commanded Timothy to guard the good deposit (some translations say, 'treasure') entrusted to him (2 Timothy 1:14).  As a Christian, we must administer the gospel by reminding the saints of their saintliness and by heralding the good news of the gospel to our unbelieving neighbors. We are thieves to hoard that which is not ours alone. The Israelites made the mistake of hoarding the good deposit. May we learn from their disobedience by announcing the universal Lordship of Jesus to every tribe, tongue, and nation.
We rob God when we do not raise our children in the admonition of the Lord.
Youth Group and Children's Church is not where your children should be discipled. Your home is the God-ordained means by which your children are to be nurtured in the faith. It is there you demonstrate unbelief or genuine devotion to God. As parents, we should teach our kids the message of the gospel. We should demonstrate our devotion to the Lord. We should lead our families in worship throughout the week. We should cultivate an environment where it is safe for them to wrestle and repent of sin. Our children are a gift from God and we will be held accountable for the quality of our undershepherd work.
We rob God by devaluing His image in other people.
The sixth commandment (murder) interplays with this. We live in a country that legalized slavery. We live in a country that is legalizing assisted suicide. We live in a country that has legalized the murder of 60 million children. Of course, that is to be expected in a culture that sees humans as nothing more than evolved animals. As Christians, we should be declaring the dignity and worth of every individual because each individual is created in the Image of God. There is no place among God's people for silence or affirmation on any of the aforementioned travesties.
We rob God by not observing the Lord's Day.
I have spoken to this over the course of several articles (start here). No doubt, every day belongs to God, but only one of those days is called the Lord's Day (Revelation 1:10). One day in seven days is to be devoted to the Lord. We gather corporately as a local church body on that day (Hebrews 10:25), we admonish one another with psalms, hymns, spiritual songs (Ephesians 5:19; Colossians 3:16), we devote ourselves to the public preaching of the Word (Acts 2:42), we fellowship (Romans 12:10), and we serve (Galatians 5:13).
These are just 5 ways we rob God. Certainly, we can expand the list. If I were to make this a bit more comprehensive, I'd probably address things like;
Fudging our taxes.
Coming in late for work.
Leaving early from work.
Not working.
Depending on the American welfare system to pay your bills because you are too lazy to get a job.
Being deceitful or manipulative in conversations.
Getting soda from the soda machine when you told the cashier you just want water (you know who you are…)
Shoplifting.
Declaring bankruptcy when it is in your ability to pay your debt.
Spending outside of your ability to pay back.
[1] https://www.thegospelcoalition.org/article/bible-commands-christians-to-tithe/