5 Types of Parents: Part One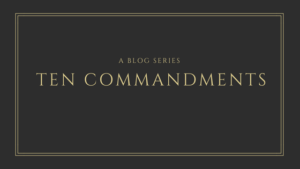 12 "Honor your father and your mother, that your days may be long in the land that the Lord your God is giving you." (Exodus 20:12 ESV) In the previous article, we shifted from the first to the second table of the Ten Commandments. Today, we look closer at the honoring of our parents. Know that this commandment will be divided up into three articles total (including the last article). Today I want to begin to define the title of father and mother and remind us of our responsibility to honor in a way that glorifies God.
Who are my Father and Mother?[1]
Dad and Mom First and most obvious is one's actual father. I am Joey Jr. There is a Joey Sr. He is my dad. He is a great dad. He raised me to know Christ and to love the local Church. He taught me about the authority and sufficiency of Scripture. He taught me how to read and study my Bible. He taught me how to submit my life to the authority of Scripture. As you now know, my dad is honorable, but this is not why I honor my dad. Many of you reading this did not have a Father like mine. Your father may have been absent. Your father may have been abusive. Your Father may be hostile to the Christian faith. However, this does not excuse you from this commandment. My mother is Carol. She nurtured me. She protected me. She cared for and about me. She was the keeper of our home. She loves me. She taught me what it means to submit. She loves my Father. She is honorable. But this is not why I honor her. We do not honor our father or mother based on their character or works but based on the unchangeable fact that we are commanded by God to do so. To honor our father and mother is obedience to God. To dishonor our father and mother is disobedience to God. Now, while honoring our fathers and mothers is obedience to God, honoring them does not mean that we must obey them. For example, if they ask us to transgress God's Law we must defy our earthly parents in an honorable way in order to show reverence and worship to our heavenly Father. So, our honoring of father and mother isn't based on their honorability, but on God's unchanging word. Political Parents To parent is to have authority. We live in a country with governing authorities put in place by God Himself. Now, we do not have kings or dictators. Our country has a democratic approach to governing. The citizens vote to put certain men and women in positions of governmental authority whose job is to uphold the U.S. Constitution (and certainly they should be held accountable to do so) and execute the will of the people they represent. As I am writing this article our elected President is Donald J. Trump. My elected Governor in Virginia is Ralph Northam. My elected Senators are Tim Kaine and Mark Warner. Scott Taylor is my district's elected Representative. These men are in positions of Government within the state inside of a country of which I am a resident. The fifth commandment can and should be applied in this context. Paul does say under the reign of a wicked and corrupt government, "Let every person be subject to the governing authorities. For there is no authority except from God, and those that exist have been instituted by God. Therefore whoever resists the authorities resists what God has appointed, and those who resist will incur judgment" (Romans 13:1-2 ESV). Now, Romans 13 does say that the government should promote morality (they weren't in Paul's day and often times do not in our day) and we should expect and vocalize the need for the government to promote morality, but we should be respectful. We should be kind. We should not start a violent revolution against a corrupt government. We should be willing to give our lives if we must defy government so that we may be obedient to God.   [1] It is the Puritan, Thomas Watson (1620-1686) that first got me thinking of the different "Fathers" in my life. In my opinion, there is no book on The Ten Commandments better than his book. It has been reprinted and made available by The Banner of Truth Trust.