5 Questions About the Sabbath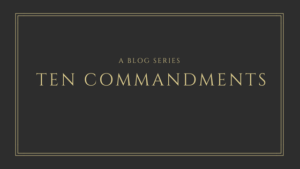 8 "Remember the Sabbath day, to keep it holy. 9 Six days you shall labor, and do all your work, 10 but the seventh day is a Sabbath to the Lord your God. On it you shall not do any work, you, or your son, or your daughter, your male servant, or your female servant, or your livestock, or the sojourner who is within your gates. 11 For in six days the Lord made heaven and earth, the sea, and all that is in them, and rested on the seventh day. Therefore the Lord blessed the Sabbath day and made it holy." (Exodus 20:8-11 ESV)
This is article number two regarding the Sabbath. In my last article, I spent a little bit of time discussing the differences between the Old Testament Sabbath and the New Testament Sabbath. I concluded that article discussing how we should approach the Sabbath as believers today. In today's article, I want to address 5 questions I am frequently asked at my local church about Sabbath day observance.
1. How should we think of labor and the Sabbath?
When we think and discuss the Sabbath it is often in the negative. We think of all the things we shouldn't do rather than what the Sabbath frees us to do. We should rest from our labors so that we can spiritually rest in the Lord.
Imagine for a moment a work week that isn't 7-days. A 7-day work week is unsustainable and those who habitually work 7-days a week may wrestle with some sort of savior complex and lack trust in the Lord. Now I am not speaking of works that are necessary such as food preparations and cleanliness. These are acceptable Sabbath works and can be worshipful acts themselves. I am speaking to our daily 9-5 vocations.
Truett Cathy, founder of Chick-fil-a understood the necessity of resting from his 9-5 labor on the Lord's Day:
"Truett Cathy made the decision to close on Sundays in 1946 when he opened his first restaurant in Hapeville, Georgia. Having worked seven days a week in restaurants opened 24hrs, Truett saw the importance of closing on Sundays so that he and his employees could set aside one day to rest and worship if they choose- a practice we uphold today."[1]
Interestingly enough, if Chick-fil-a had as many stores as McDonald's (Chick-fil-a has around 2200 in the US compared to McDonalds' 14,000) they would be more profitable by around 2 billion dollars even though McDonald's is open 7-days a week. This means that Chick-fil-a's per-store sales average is the highest in the nation.[2]
I am not saying that your profit line will increase if you honor the Lord on the Sabbath, but I am saying we should, like Cathy, see that the God who created all things gave us a sufficient amount of time to get things accomplished in 6 days. If you find yourself not able to rest from your labor on the Lord's Day, it's because you aren't managing 6 days well. If this is you, hear me when I say that when you work for 7 days a week you are demonstrating unbelief.
2. How should we think of the Sabbath and modern technology?
Modern technology has made Sabbathing (that's a word, right?) very difficult. We are constantly connected on social media, e-mail, texts, phone calls, etc. This means we are available to everyone except the Lord. We never give ourselves an opportunity to be still (Psalm 46:10). We never give ourselves an opportunity to be freed up to focus on the One who brings us rest. If we're honest, disconnecting from technology would be awkward and weird for many of us. We are so addicted to technology, that to leave it alone is like letting go of an appendage. We are constantly making ourselves available to be distracted- to be numbed.
Much of our lives are spent either distracted by worldly duties or entertaining ourselves. CNN reported in 2016 that the average American spends 10 hours a day in front of some sort of screen.[3]
10 hours a day.
This begs this question: Is your technology hindering you from resting and worshipping the Lord? What if you slowly began to reduce that amount of time?
Here's a challenge- try detoxing every Lord's Day. Put your phone away in a drawer. Commit to keeping the laptop tucked away. Refuse to turn the tv on. I can almost guarantee you these things fuel the fire of your anxieties and depression. Unrestrained technology does prohibit us from rest.
It's Sunday. Unplug. Be still. Worship. Rest.
3. How do I rest?
Keeping the Sabbath holy, means that we should be God-oriented when we rest. Some of us use Sundays to escape and numb our minds. We binge watch television. We sleep in on Sunday mornings. We use it as a travel day or primarily as a day of recreation. This is not what the Lord intended when He set this day aside for us. The Lord intended for our rest to bend toward Him.
Certainly, this is what Christ is concerned about in the New Testament when he speaks about the Sabbath:
"Then he [Jesus] said to them, "The Sabbath was made for man, not man for the Sabbath. So the Son of Man is Lord even of the Sabbath." (Mark 2:27-28)
Jesus reminds us here that the Sabbath is good for us and that He alone is the Lord of it. This means that we must have a worshipful posture as we approach the Lord's Day. Resting on the Lord's Day is a way for us to declare that Jesus owns the world.
[bctt tweet="Resting on the Lord's Day is a way for us to declare that Jesus owns the world" username="joey_tomlinson"]
Nothing declares that more than gathering with the saints on the Lord's Day (Hebrews 10:25) to worship and serve Christ.
Our rest must be purposeful. Our rest must be worshipful.
4. Can we be legalistic about the Sabbath?
We are ditch people. What I mean by that is when it comes to God's Law we either abandon it (antinomianism) or we apply it wrongly (legalism).
Recently some members of our church had a family emergency on a Sunday. While there was nothing my wife and I could do to change the family emergency we could provide a meal for them. Because of when we learned of the family emergency, we didn't have time to prepare a home-cooked meal for this family, so we went to a restaurant and picked their family up some food so that they didn't have to worry about preparing anything. I believe this honored the Lord and I could prove that to you biblically. It would be a misapplication of rest for us to have said, 'We would love to help, but we can't because it's the Sabbath and we can't go to the marketplace on the Sabbath.'
We shouldn't become legalists about the Sabbath. Jesus addresses this directly in Scripture (Matthew 12).
It is our heart posture in regard to the Lord's Day that matters. Is our heart God-oriented or not? Are you compassionate in the way you obey the Sabbath or not? Is your legalistic observance of the Sabbath preventing you from loving and serving others?
While legalism is often a question I get, I suspect that it is not legalism we struggle with when thinking through the Sabbath, it's antinomianism (a there is no more Sabbath mindset).
5. What can a Sabbath do?
I brought up depression, anxiety, panic attacks, and burn-out in my first article on the Sabbath. I really believe that a Sabbath is what's in order to alleviate some of these things. A weekly Sabbath provides spiritual rest and physical benefits.
A God-oriented Sabbath centers us on God and the gospel as we assemble with the saints to hear, pray, and sing God's Word.

A God-oriented Sabbath reminds us of the gospel in picture form when we partake of the ordinances/sacraments of Baptism and the Lord's Supper.

A God-oriented Sabbath reminds us that "It is finished".

A God-oriented Sabbath allows us to intake larger sections of Scripture (hearing the Word; reading the Word; studying the Word; meditating on the Word; memorizing the Word).

A God-oriented Sabbath allows us to be more devoted to prayer.

A God-oriented Sabbath allows us to be more devoted to teaching our children about God and the gospel.

A God-oriented Sabbath allows us to strategically serve others.

A God-oriented Sabbath draws our busy minds away from the cares of this world.

A God-oriented Sabbath can include an actual nap that declares Jesus runs and rules the world.
I have merely scratched the surface on this particular commandment. For more information and spiritual nourishment on this commandment, I would encourage you to grab a copy of Walter Chantry's book, "Call The Sabbath a Delight" from The Banner of Truth Trust.
[1] chick-fil-a.com/Sunday-Video
[2] These stats are statistics I adopted from a business insider survey taken in 2015.
[3] https://www.cnn.com/2016/06/30/health/americans-screen-time-nielsen/index.html