5 Books To Help You Care For Body and Soul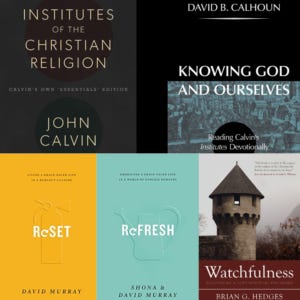 God created both body and soul. Historically, this perspective is called a dichotomist view of man. Usually, we as Christians seem to emphasize one over the other and we fail to see how one interrelates with the other. I want to recommend 5 books to you that can help you develop a biblical view of self and cause you to look to God for help and sustenance.
RESET: LIVING A GRACE PACED LIFE IN A BURNOUT CULTURE BY DAVID MURRAY
David Murray's ministry came into my life at a critical time. A time when I was failing to acknowledge the physical limitations given to me by the Lord. The neglect of my physical health was having an impact on the quality of my spiritual health and this had an impact on my ministry and family. Murray's voice on how to care for both body and soul is like a cool breeze on a scorching hot day. I knew of Murray's ministry long before this book (and I encourage you to follow and read his blog), but this book is much needed in our culture and fills a tremendous gap in Christian literature. This book is geared toward men, but even my wife found it helpful.
REFRESH: EMBRACING A GRACE PACE LIFE IN A WORLD OF ENDLESS DEMANDS BY SHONA AND DAVID MURRAY
This book came out several months after Reset and is geared toward women. Murray's writing and thinking have such an impact on my own thinking that my wife and I decided to read this one too. This time, David's wife, Shona co-authors the book and offers not only a female perspective but also the perspective of a medical doctor. If you're a woman struggling to keep up with the demands of life and find yourself physically and spiritually sluggish and dull, this book is for you.
WATCHFULNESS: RECOVERING A LOST SPIRITUAL DISCIPLINE BY BRIAN G. HEDGES
Every Christian should read this book. Of course, I think that hence the recommendation. This book was published this year but is deeply steeped in Puritan literature and grounded in 1st-century church thinking. Hedges writes warmly and pastorally about the deceitfulness of sin and our need to cultivate the lost spiritual discipline of watchfulness in our pursuit to flee sin, cherish Christ, and await His return. This book is so devotional and includes application questions at the end of each chapter. This is a top tier book on soul care.
INSTITUTES OF THE CHRISTIAN RELIGION BY JOHN CALVIN (1541 Banner of Truth Trust Edition)
I have Calvin's Institutes to be the most soul-enriching book ever written other than the Bible. This particular version published by The Banner of Truth Trust is a must have. Very few writers can pen such doctrine driven devotional content as Calvin does in his Institutes. The Lord has used Calvin to water my parched soul time and time again and despite the length of this book, Calvin is a very brief writer.
KNOWING GOD AND OURSELVES: READING CALVIN'S INSTITUTES DEVOTIONALLY BY DAVID B. CALHOUN
For those of you who are new to Calvin's Institutes, this is a great companion book published by The Banner of Truth Trust and written by David B. Calhoun aimed to teach you how to read Calvin devotionally. The worst way to read Calvin is in a cold, academic posture. Calhoun ensures you don't do this. I find this to be a great evening read, before bed and Calhoun pairs his book well with the Banner's version of Calvin's Institutes. Each chapter of the book has you read a portion of the Institutes (you must own the Institutes to use this book) devotionally followed by Calvin's words on the subject of the chapter that are written elsewhere and included in Calhoun's book. Each chapter closes with a prayer by Calvin himself. This is a great book for soul care