4 Ways We Take the LORD's Name in Vain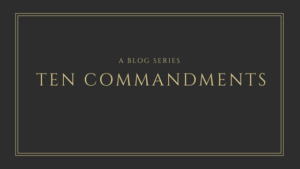 7 "You shall not take the name of the Lord your God in vain, for the Lord will not hold him guiltless who takes his name in vain." (Exodus 20:7 ESV)
This is article five (see article four)  in a series of articles on the Law of God. In focus, today is the quality of our reverence for God. Charles Spurgeon says of this commandment, "A reverence for the name of God is demanded, and all things that are connected with his worship are to be kept sacred." This means that our reverence for God's name should touch every aspect of our lives.
In this article, I want to focus on 4 ways we take the name of the LORD our God in vain.
We take the LORD's name in vain when we profess Christ and live like pagans.
The word 'poser' could be utilized here. Poser was a word employed by every teenager I knew in Middle School. To be a poser is to act like someone you're not. To profess Christ and live like a pagan is to be who you're not. The church of Corinth had this issue and the basis by which Paul calls them to repentance is their profession of faith.
Consider Paul's words in 1st Corinthians 6:9-11:
"Or do you not know that the unrighteous will not inherit the kingdom of God? Do not be deceived: neither the sexually immoral, nor idolaters, nor adulterers, nor men who practice homosexuality, nor thieves, nor the greedy, nor drunkards, nor revilers, nor swindlers will inherit the kingdom of God. And such were some of you. But you were washed, you were sanctified, you were justified in the name of the Lord Jesus Christ and by the Spirit of our God."
Paul is saying, God's people are washed, sanctified, and justified in the name of Jesus by the Holy Spirit, therefore, behave in a way that matches your profession. Stop being a poser.
We take the LORD's name in vain when we have a low view of Lord's Day worship.
I am going to talk at length about this in my next few articles, but we have a real problem here. Folks really have a low view of Sunday. Now I am going to say some very concrete things that may make you squirm, but they need to be said.
Some of us have such a low view of the Lord's Day that we skip the assembly of the saints so that our children can play sports on the day God set aside to be worshipped.
Others come, but they're habitually late. And those of us who are late are sure to leave early so we can beat traffic and get to our favorite buffet. During the actual service we doze off or we're distracted because our physical and spiritual disciplines are unchecked.
We need to learn from the Puritans.
The Puritans looked at the Lord's Day as the market day of the soul (I'll mention this phrase from time to time) and their entire week culminated on the Lord's Day. Sadly, we do not share that perspective. Sundays have become a time for us to check out with mind-numbing activities.
The question I am asking myself is this: Does the way we approach Sunday local church worship demonstrate reverence or irreverence for God?
We take the LORD's name in vain when we endure and promote false teaching.
Think, the church in Thyatira here. Jesus says to this particular church,
"I know your works, your love and faith and service and patient endurance, and that your latter works exceed the first. But I have this against you, that you tolerate the woman Jezebel, who calls herself a prophetess and is teaching and seducing my servants to practice sexual immorality and to eat food sacrificed to idols." (Revelation 2:19-20 ESV)
The church in Thyatira abounds in works, love, faith, and service. In other words, they are very emotional in their devotion to God (which is a good thing) and they are very passionate about social justice issues (which is also a good thing). However, they are unbalanced, and they have focused on emotional devotion and service to the neglect of sound doctrine and teaching. They have tolerated and even promoted false teaching within their own congregation and Christ tells them to repent. We live in a day and age where the church is spending lots of time on social justice issues and we need to be sure we aren't compromising our theological identity in the name of advancing our choice social justice passion. We are a people committed to the Apostle's teaching and we must not neglect the faith that was "once for all delivered to the saints" (Jude 1:3) and take the LORD's name in vain.
Furthermore, where false teaching is endured or promoted, God's name is blasphemed. R. Albert Moher, President of The Southern Baptist Theological Seminary says, "The revelation of the name of God is a revelation of His character, perfections, sovereignty, power, holiness, and His love- and all these attributes are maligned, distorted, and denied in the reductionistic theologies rampant in our day."
So we must not tolerate false teaching. We must not endure false teaching. To do so is to take the Lord's name in vain.
We take the LORD's name in vain when we don't keep our word.
Jesus says in Matthew 5:34-35, "But I say to you, do not take an oath at all, either by heaven, for it is the throne of God, or by the earth, for it is his footstool, or by Jerusalem, for it is the city of the Great King." And James says in James 5:12, "But above all, my brothers, do not swear, either by heaven or by earth or by any other oath, but let your "yes" be yes and your "no" be no, so that you may not fall under condemnation."
This is an ambassador issue. We are representing Christ when we interact with others. And when you give your word as a Christian and you do not keep it, you should see it for what it is- blasphemy against the name of God and a poor gospel witness. A Christian who doesn't keep his or her word is a poor witness to an unbelieving world. Do you care about your gospel witness? The biggest reason we don't keep our word is that it costs us something. We need to hear the words of Jesus on this, "Then Jesus told his disciples, "if anyone would come after me let him deny himself take up his cross and follow me" (Matthew 16:24 ESV).
As believers let's seek to model our Savior who kept His word to seek and save us.
These are just four ways we take the LORD's name in vain and there is enough here to keep us busy this side of eternity.