4 Ways to Be Honorable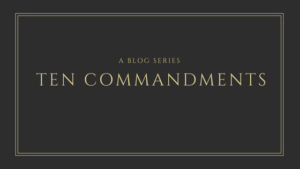 12 "Honor your father and your mother, that your days may be long in the land that the Lord your God is giving you." (Exodus 20:12 ESV)
Today marks a shift from the first to the second table of the Ten Commandments (see my first article in this series to learn more about the two tables). While the entirety of the Law deals with the quality of our relationship with God, these back six commandments include our relationships with others. Today, we begin focusing on the honoring of our father and mother. Often times when we hear this commandment, adults automatically think this commandment is addressed to children exclusively. We treat the commandment as if God realized He hadn't included kids, so he thinks of a relevant commandment to make sure everyone's treated equally. While children should honor and obey their parents, this is a commandment that has adults in focus as much as the other nine do.
I will divide this commandment into several articles over the next few days. Today I want to give a charge to all of us and that is that we are to aim to be someone worth honoring.
This charge, as we will see in upcoming articles, isn't limited to those who have biological children. Not one believer is off the hook in this commandment.
Whether we have biological children or not, our aim should be to be spiritual fathers and mothers. How are we to be spiritual parents?
First, we must be Christians. Our confession is that Jesus owns everything including our person. We express this confession through repentance and faith (Mark 1:15; Acts 16:31; 2 Corinthians 7:10).
I love how Herman Bavinck[1] summarized our Christian faith. He showcased the Triune cooperation of our salvation: "The essence of the Christian religion consists in this, that the creation of the Father, devastated by sin, is restored in the death of the Son of God, and re-created by the Holy Spirit into a kingdom of God."[2]
Second, we must be lovers of God's Scripture and prayer. Romans 12:1-2 speaks to the importance of having our minds transformed by the Word and Jesus not only commends but teaches us how to pray in Matthew 6:9-13.
Third, we must be devoted to other believers in the context of the local church. Every epistle in the New Testament is addressed to believers that were members in particular local churches. They were devoted to one another (Romans 12:10). They met together regularly (Hebrews 10:25). They warned each other of sin's deceitfulness (Hebrews 3:12-14). And they devoted themselves to the apostle's teaching, prayer, and singing (Acts 2:42; Colossians 3:16; Colossians 4:2).
Fourth, we must be obedient to the Great Commission (Matthew 28:18-20). The Scripture knows nothing of a Christian who doesn't make disciples.
Those of us that are Christians (point one) know that the following three points are non-negotiable. If we are to be honorable, this is the starting line. The fifth commandment is honor thy father and mother. Are you honorable?
[1] Dutch Reformed Theologian born in 1854 died in 1921. His book Doctrine of God is perhaps the best work on the subject.
[2] You can find more on this in Bavinck's Reformed Dogmatics Volume 4.