3 Ways we Worship Idols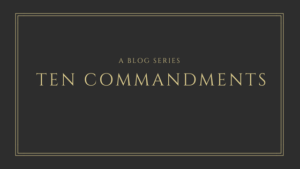 3 "You shall have no other gods before me." (Exodus 20:3 ESV)
This is article three (see article two here) in a series of articles I'm writing on the Law of God. In my last article, I attempted to make the case that The Ten Commandments are still binding on believers today. If you're reading this, thanks for not abandoning me yet. Today, I want to begin plodding through the particulars of the Law in what I hope will be a devotional tone. These articles aren't academic, and they aren't meant to be tedious (however, you're three articles in and have every right to disagree at this point). Rather, my prayer is that each article will warm your affections for Christ.
The first commandment God gives to His people is that they will have no other gods before Him. In its immediate context, this command was given to the Israelites who were rescued from Egyptian slavery and the ancient near east culture was extremely polytheistic (gods galore). The Lord is saying that He alone is the captor of their hearts. He alone is their God. He alone is sufficient, and He demands full allegiance.
Now, we may be far removed from the ancient near eastern culture, but we are not beyond polytheism. John Calvin said in his section on idols in the Institutes of Christian Religion that our hearts are idol factories. Certainly, the Apostle Paul confirms this in Romans 1:18-21,
"For the wrath of God is revealed from heaven against all ungodliness and unrighteousness of men, who by their unrighteousness suppress the truth. For what can be known about God is plain to them because God has shown it to them. For his invisible attributes, namely, his eternal power and divine nature, have been clearly perceived, ever since the creation of the world, in the things that have been made. So, they are without excuse. For although they knew God, they did not honor him as God or give thanks to him, but they became futile in their thinking and their foolish hearts were darkened." (ESV)
So, according to Paul, folks suppress the truth that there is only one God and that He alone is to be the object of their worship. Instead of worshipping God, they refuse to honor Him or give thanks to Him. This is the condition of every unbeliever. This is a believer's condition before the Holy Spirit regenerates their hearts and they respond in faith and repentance.
The first commandment is a doozy because it is a foundational commandment. Every other commandment flows from it and to break any other commandment is to also break this one. In other words, to break this commandment is to break the whole Law. I want to give you three primary ways we break this commandment and consequently all the rest.
We make God like us.
We are all guilty of this and I see it all the time. The way we think about God is oftentimes uninformed by Scripture. We tend to have a perspective on God based on how we feel.
[bctt tweet="The way we think about God is oftentimes uninformed by Scripture. We tend to have a perspective on God based on how we feel" username="joey_tomlinson"]
We cast our emotions onto God and think that He has emotions like us. We hold God to our standards as if we are some neutral third party that can judge how He governs the universe. If we say we are serving and worshipping God and He is like us we have put another god before Him and we must repent. God defines Himself. He will not be redefined. He is unchangeable (more on this in a later article...probably).
When we desire sinful pleasures.
Let's just stick with the Law here. As Christians, we must not desire that which God forbids. Paul spends time on God's Law when addressing the church of Corinth. He states,
"Or do you not know that the unrighteous will not inherit the kingdom of God? Do not be deceived: neither the sexually immoral, nor idolaters, nor adulterers, nor men who practice homosexuality, nor thieves, nor the greedy, nor drunkards, nor revilers, nor swindlers will inherit the kingdom of God" (1 Corinthians 6:9-10 ESV).
This list is given in such a way that none of us are off the hook. We are putting gods before the God who saved us when we desire sinful pleasures. Thankfully, God through Christ Jesus has changed our desires and therefore we can repent and trust Jesus:
"And such were some of you. But you were washed, you were sanctified, you were justified in the name of the Lord Jesus Christ and by the Spirit of our God" (1 Corinthians 6:11 ESV).
Dear Christian, you have the capacity and the obligation to repent from breaking the first commandment by indulging in these types of behaviors. You can do so because you are in Christ and His Holy Spirit lives in you.
When we desire a good thing too much.
The final way I'd like to mention that we break the first commandment is through desiring good things too much. This is where coveting comes into play. Friend, are you discontent? Do you desire to be married? Do you want kids? Do you want your spouse to be a believer? Do you want your kids to be more obedient? There is nothing wrong with these desires as long as you hold them open-handed to the sovereign God who controls all. Often times though we hold these things with a clenched fist. We demand these things happen and if they don't we will sin in response. If this is you, behold your idols.
Our hearts can drift in their allegiance to God. Thankfully He has given us His Holy Spirit so that we may look in His Scripture, see His commandments, be convicted, repent and trust in Jesus' finished work.
Keep your heart from other gods.