3 Ways We Murder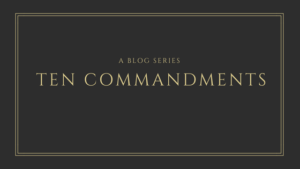 13"You shall not murder." (Exodus 20:13 ESV)
In the last article on this particular commandment, we discussed the difference between killing and murder. In this article, it is important for us to see that this commandment is relevant for everyone even though most of us will never struggle with the taking someone's life maliciously.
Jesus speaks about this commandment in the New Testament when He says,
"You have heard that it was said to those of old, 'You shall not murder; and whoever murders will be liable to judgment.' But I say to you that everyone who is angry with his brother will be liable to judgment; whoever insults his brother will be liable to the council; and whoever says, 'You fool!' will be liable to the hell of fire." (Matthew 5:21-22 ESV)
According to Jesus, we transgress the Law of God and commit murder when we're angry, when we insult, and when we slander.
[bctt tweet="According to Jesus, we transgress the Law of God and commit murder when we're angry, when we insult, and when we slander." username="joey_tomlinson"]
Anger
The Bible has much to say about anger. The word, "anger" is used 264 times, "angry" is used 89 times, and "angered" 3 times. Other words that are associated like, "hate" or "hatred" are used 185 times. Robert D. Jones, pastor, biblical counselor, and professor says, "our anger is our whole person active response of negative moral judgment against a perceived evil."[1]
The operative word being perceived in that definition. The problem with folks like you and me is that our perception is broken. Often times what we perceive to be an injustice is not. Most of the time the anger in our hearts is drawn out when certain idols fail to deliver.
We demand respect and don't get it, so we lash out.
Our spouse isn't fulfilling a perceived need, so we argue.
Our boss didn't give us that promotion or raise we think we deserve, so we brood.
On and on the list can go.
Even when we're angry at actual injustices, we don't respond in a godly manner. We react in a sinful manner. We fight, we scream, we have adult sized tantrums.
Insult
Anger is certainly the root sin of insulting but isn't this a natural progression? We attack people by belittling them. Sometimes this comes cloaked in sarcastic, biting remarks about others. We are really good at this on social media. Engaging with others on social media on important matters is almost intolerable because of the insulting tone with which people write. How often do you mock others? How often do you maliciously make others the butt of your comments or jokes? I'm not talking about joking with friends. You know when there is malice behind your sarcastic biting comments.
Slander
Much like an insult, anger is a root sin, but slander has behind it the motive of destroying someone's reputation. Some synonyms for this are, tarnish, taint, smear, and besmirch. Slander usually comes through gossip and it has no place among God's people. Even if what you're saying is true, the motive of a believer should be to build up and pray for repentance and reconciliation in the lives of others. Some of us are chomping at the bit to share some piece of damning information about someone with another person. We'd like to be seen as the one holding the information.
Believer, hear me on this: when you slander you are putting an extra obstacle in the path of the person you should be helping and praying for. When you slander you're secretly hoping for this person's destruction. You're secretly hoping for this person to experience hell-fire. You may not recognize that at first, but if you spend some time reflecting, you'll discover that the fruit of slander has behind it the seeds of murder.
[1] Robert D. Jones Uprooting Anger: Biblical Help for a Common Problem (Philipsburg, NJ: P&R Publishing, 2005) 15-18.