3 Ways We Bear False Witness: Part 4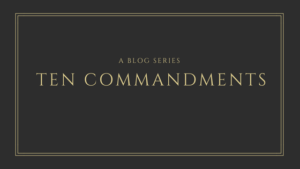 16 "You shall not bear false witness against your neighbor. (Exodus 20:16 ESV)
Today, I want to examine a final consequence of bearing false witness against a brother and/or sister (although these aren't the only ways).
Bearing false witness against a brother and/or sister in Christ hinders our ability to repent of our own sin.
In other words, we aren't just sinning against God and other people. We are hindering our own spiritual life. Some of us are so worried about other people's sins that we fail to see and repent of our own sin. Didn't Jesus see this as an issue? Look with me:
"Judge not, that you be not judged. For with the judgment you pronounce you will be judged, and with the measure you use it will be measured to you. Why do you see the speck that is in your brother's eye, but do not notice the log that is in your own eye? Or how can you say to your brother, 'Let me take the speck out of your own eye, when there is the log in your own eye? You hypocrite, first take the log out of your own eye, and then you will see clearly to take the speck out of your brother's eye" (Matthew 7:1-5 ESV).
A few things we should meditate on today regarding this passage:
1. We better be sure that we hold ourselves to the standard we hold others to. 
We all know the stories of Christians (even pastors) who are able to point out the sins of other individuals, all the while they have not applied their watchfulness to their own life and practice. They make it a practice of hiding in the dark behind the sins of others. Be sure that God will bring this to light.
2. We are good at seeing our sins in other people. 
This doesn't have to be a bad thing if we are honest about our own sin and struggles. Often times we are not though. The sins that annoy us in other people are often the very sins we silently indulge.
3. A remedy for gossip: See yourself as the chief of sinners. 
That is what Jesus is getting at in this passage. We should see our sins as bigger than other people's sins. This produces humility and gentleness. Counselor and Professor, Ed Welch says that if we see the sins of others as a 'speck', we will be delicate to remove them. Think of something lodged in the eye of a loved one. You will be careful as you hold their eye open, and gently blow out the debris lodged in. If that doesn't work, you will lovingly get the assistance of someone more qualified to help remove the speck. If we treat the sins of others like specks, we will honor the Lord as we converse about the sin and help to remedy the issue.