3 Ways We Bear False Witness: Part 2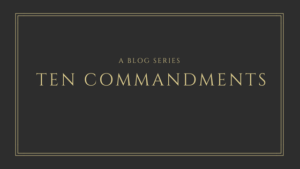 16 "You shall not bear false witness against your neighbor. (Exodus 20:16 ESV)
In my previous article, I asserted that we take on the role of the Accuser (Satan) when we break the ninth commandment. Today, I want to begin to examine what exactly is at stake when we do so.
Bearing false witness against a brother and/or sister in Christ, even if there is truth to what you are saying, is to behave as if Christ never came.
Think about that for a moment, believer. How sad would our condition be if Christ never came? Have you ever thought that your gossip or slander of another believer is shouting the mantra "Christ did not come!"?  Thankfully Christ did come and therefore we have hope.
As Believers, we have accused ourselves already. We know we need the salvific work of Jesus applied to our lives by the Holy Spirit. Satan's accusations lay benign at the feet of our victorious Savior. However, many believers pick up Satan's role of accusing when they discuss other believer's sins in an unproductive way. Some Christians do this as if it is their Christian duty. Some people actually believe that gossiping (of course, they wouldn't use that word) about another person's sins is acceptable in the eyes of God and good for the church. However, God has given us proper handles for dealing with sin in the lives of believers (Matthew 18 and 1 Cor 5) and nowhere does this include gossip. Dealing with sin according to the Scripture is a local church, corporate matter (more on this in another article).
It is a breaking of the ninth commandment to discuss the sins of other believers in a way that is not authorized by God. Discussing sin in an unauthorized way does not produce repentance and reconciliation. It does the opposite. It produces distance, shame and maybe even a further hardening of the heart.
Furthermore, to accuse a repentive brother or sister is to declare, 'your sin is not forgiven by God' and this is a lie straight from Hell of which you will give an account.
Watch your tongue, believer.