3 Tips On How To Read A Book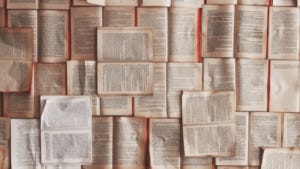 I'd like to encourage you to read books. Reading articles are great, but they don't provide the sustained thinking a book requires of you. The Lord spoke to us through a book. He used words. Those words were documented and have been preserved for thousands of years. God intends for His people to be a reading people. I'd like to give you a few tips on how to read a book.
1. Choose wisely.
You only have so much time and books are being published at a rapid pace. Not all books are worth your money and time. So, don't be afraid to stop reading a book. I try to follow an annual booklist I develop.  I also follow a few good bloggers that help me discern what's worth reading: Tim Challies; Doug Wilson; Albert Mohler; themelios from the Gospel Coalition; books at a glance; servants of grace.
2. Read with a pen in hand.
You should take notes when you read. Some of us (not me) have photographic memories and we don't need a pen. 99% of everyone else should utilize a pen. Write in the margins. Write points of disagreement/agreement. Write summaries at the end of each chapter. We remember better what we write. So, write/underline/highlight as you read. Your book should be worn by the end of it.
3. Plod through a book.
Reading a book doesn't take a lot of time. We have gaps in our days. 15 minutes of downtime here and there. A few minutes in the waiting room. A few minutes when we wake up/before bed. If you dedicate just 30 minutes a day to reading (set a timer!), you can cover a LOT of ground. Think of it this way: the average reader reads around 200 words per minute. The average book is around 60,000 words. If you set aside 30 minutes a day at an average pace, you can read one book every 10-12 days. That is between 30-36 books a year. Think of all that God will teach you in 30-36 books. We are talking low investment and high return.
You have time to read. You should read. Don't wait for a New Years Resolution. Start today. Want a list of books? Check out my bookstore on this site.